Our dedicated team conducts health camps periodically for the needy rural people. We also organize eye check-up camps for people and actively participate in health awareness programs. The foundation also provides free spectacles to Saraswatii Global's artisans and staff. Free medicine distribution camp was the most successful program structured by us. We also train our employees in various work related skills & precautions to be followed at work.
ACTIVITIES
Eye Check-up Camps are periodically held in villages for the rural people. Here Our team of doctors examine the eyes of patients & provide medicines &/or spectacles depending on the diagnosis. Many patients have been successfully operated for cataract too.
Free Medicine Distribution Camps are held for the underprivileged people where the foundation team distributes medicines free of cost after their basic health check-up.
Health Awareness Programs are conducted in forms of rallies, street plays & camps to create awareness towards various deadly diseases, their prevention & cure.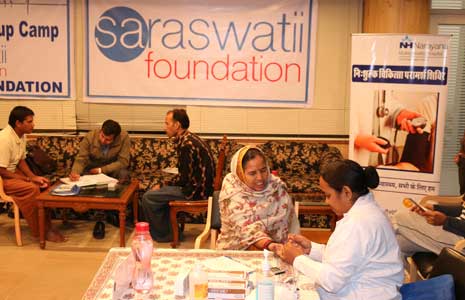 Eye check up and cataract operation camp was organized by Saraswatii Foundation from 26th to 28th november 2016
220 people from 50 villages registered for eye check-up and surgery
Out of 220, 119 were selected for cataract surgery
Out of 119, 108 were operated in the camp.
Out of 108 operated patients there were 60 women and 48 men
Out of 118 people, there were 46 in the age group of 40 to 60
There were 67 people in age group of 61 to 80
There were 5 people in the age group of 81 to 106
Out of 118 people 29 belongs to BPL category
Women participation was higher than men in camp.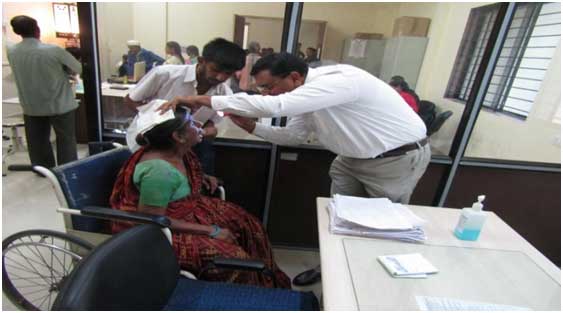 Cancer awareness Program cum Health Check-up camp at Majipura
On 6/02/17 Foundation organized a Cancer awareness program combined with health check-up camp. A Dr. Miss Amrin Khan, BHMS was hired to counsel the women in the village.25 women came forward for health check-up; one young boy and one child were given free consultancy. Most of the women diagnosis with body pain, joint pain, irregular cycle and head ache. Few had allergy problem.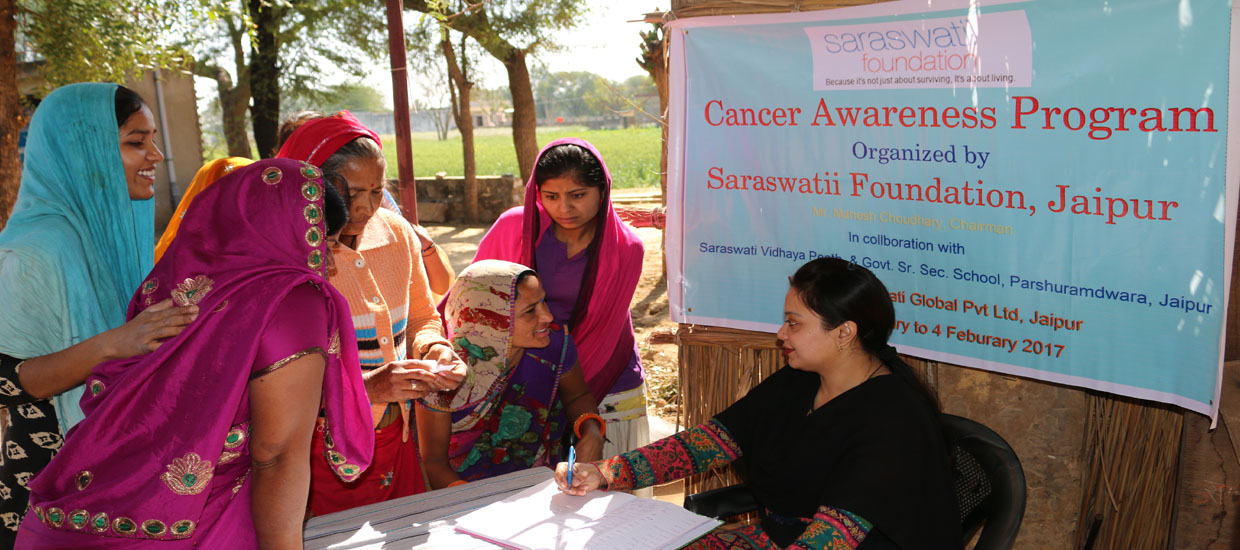 Saraswatii Foundation in collaboration of two local schools, Government Sr.Sec School and Saraswati Vidhaya Peeth organized a Cancer awareness program
On the occasion of Cancer day , Saraswatii Foundation organized two days events in the organization on Cancer awareness for the community, school and staff of the company. Saraswatii Foundation in collaboration of two local schools, Government Sr.Sec School and SaraswatiVidhayaPeeth organized a Cancer awareness program and conducted a rally on 3/02/2017 starting from SGPL; going in to the community and main roads of ParshuramDwara colony and ended at company.
The school children went door to door and aware the community regarding the dreadful diseases, its causes, symptoms, prevention and cure measures. School children created awareness in the market by performing a street play and gave a message through it; the danger of diseases, its root causes, precaution and treatment. There were 114 children participated in the event from both the schools; six teachers and 28 company staff were involved in the program. More than 150 people got benefit from the program. At end Foundation provided refreshment to all the participants. Program Director Mr. Raj Choudhary and Mr. Rajesh Bhardwaj motivated school children not to indulge in alcohol and Tobacco products.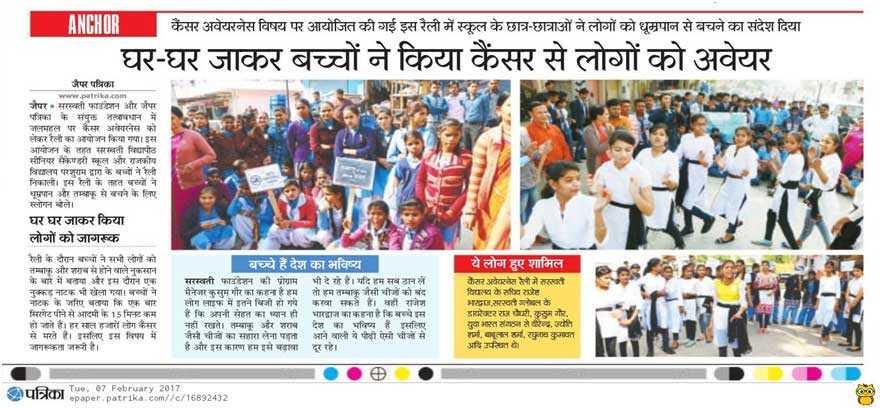 Result of the program-
Networking with two schools, Media and a Doctor.
114 children got aware on cancer and became part of the campaign
Six school teachers and 28 staff got sensitized on Cancer disease
More than 190 community members got aware on Cancer
27 members was getting knowledge on health consultancy during the program