Saraswatii Foundation is a Non-Governmental Organization (NGO) founded in 2014 with a vision to support, educate, and empower Amer's artisans. From the day of establishment, The Foundation is striving to enhance the living standards of the underprivileged rural artisans of Rajasthan.
From education to health campaigns, Saraswatii foundation is running all the possible programs to encourage the artisans to grow their skills and create better employment opportunities for themselves. These campaigns have not only helped them become better artisans but also enabled a few of them to take up entrepreneurship successfully.
The Saraswatii Foundation started as the vision of One Man, a Carpet Veteran, Mr. Mahesh Kumar Choudhary; He is extremely passionate about the rights of every labourer, weaver and artisan. His success mantra has been very simple, "Ensure your employees' well-being & they will ensure success for you."
While working on the overall growth of the rural artisans, the foundation also takes care of their families education and wellness. All the family members of these craftspeople can attend the camps organized by Saraswatii.
To that end, the foundation has not only created new schools or supported the existing ones, but has also conducted local classes and seminars for the artisans and their families. It has even provided scholarships to the deserving children to pursue higher studies.
Likewise, medical treatment is provided to the artisans and their families. By improving the working conditions for artisans coming from a deprived background the organization is alleviating the endemic child labour problem in India.
While following the great vision of their Chairman, Saraswatii Foundation is constantly working towards creating a better future that is empowered, dignified and filled with opportunities for the rural section of the country.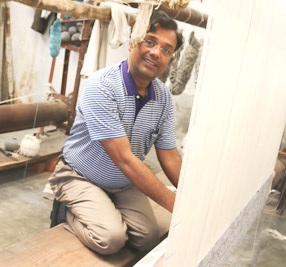 The founder of Saraswatii Foundation is Mr. M. K. Choudhary, who is a carpet veteran and possesses over 30 years of experience in nearly every facet of rug production. He is a down to earth person and firmly attached to his roots. He worked really close to the artisans to understand their actual work and life conditions.
And was deeply saddened to see their day to day struggles for basic necessities like healthcare, education, social acceptance and respect. Mr. Choudhary then decided to support the rural artisans and created Saraswatii foundation with an aim to make a better world for them to live. The world where they are independent and confident.
With the foundation, Mr. Choudhary has given wings to the aspirations of numerous artisans. By providing them and their families access to education, health care and dignified livelihood options, he has transformed many lives. Under the able guidance of Mr. Choudhary, various artisans have turned into proud entrepreneurs
Looking at the stats, the foundation has successfully trained more than 15000 women in different forms of weaving. In the present day, Mr Choudhary is the reason behind the bright smiles of thousands of artisans, the fulfilled dreams of their children, and the happy homes where they reside.
I strongly feel that when you have the zeal to do something, you just do it, in spite of all the negatives. Being an aware citizen and a prosperous businessman of the country, I deeply feel it's my responsibility to enable a brighter tomorrow and smarter world for maximum people belonging to the deprived families.
Saraswatii foundation was an initiative to acquire my vision of empowering the rural artisans and creating a happier and healthier future for them. Today, I am very proud to say that the foundation is doing really well and is working selflessly to create a better future for the underprivileged rural artisans by focussing on health care, education and livelihood opportunities. Women empowerment is another significant factor in our services.
I believe Education, Health and development are the basic rights of every individual, and our team works hard to ensure that these rights are provided to the ones in need. The weavers are Artisans are the key reason behind our success and global recognition, No business can succeed without a dedicated workforce.
Hence, it is our moral duty to take care of their well-being and give them the dignity and respect they deserve. I have always believed that our employees are the pillars of our successful future and the company's progress is incomplete without any growth in the employees' lives.
I feel great when I see thousands of women being empowered by Saraswatii Foundation. The smile on our artisans' faces, the joy in their children's eyes and the healthy and content faces of their families is my greatest reward. After all, our good deeds are the only legacy that we leave behind.
Today, the foundation is working as a thriving source of employment for 10, 000 weavers and 60% of whom are women. On top of that, the artisans are gaining confidence, social values and so many skills which will carry them further in life and upgrade their lifestyle.
The Saraswatii Foundation is bringing changes in the society and transforming the lives of numerous rural artisans. Some weavers are even turned into the successful entrepreneurs.
Healthy, educated and empowered community is the foundation of any strong society and we are determined to make this foundation strong and sturdy.